Removing Waterbury Mold Damage Promptly
4/13/2023 (Permalink)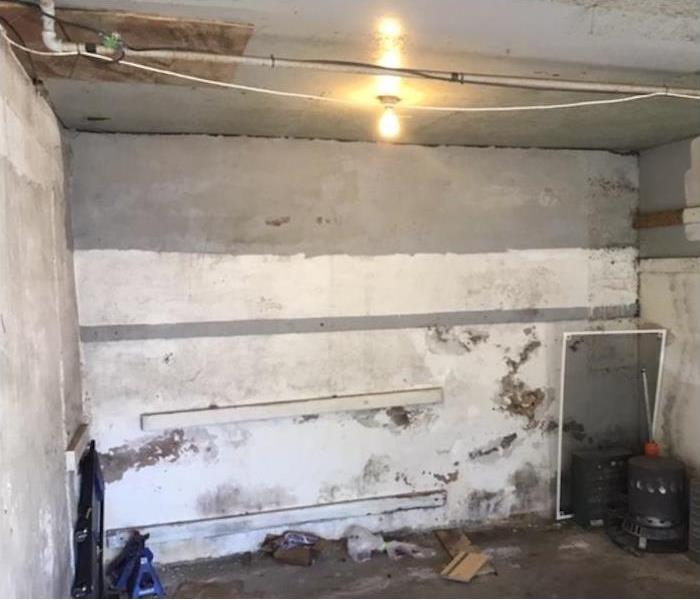 Is your home or business in Waterbury affected by mold damage? Contact our experienced team to remediate your home. We are available 24/7.
Our Remediators Provide Fast Mold Damage Recovery
Mold is an issue that many New Haven County homes experience in their lifetime. Because humidity is a continual concern for the more than 110,000 residents of the city, we have a growing crew of AMRT-Certified technicians versed and experienced with the latest remediation trends, products, and equipment to restore and clean your damaged property effectively. Remediation services we provide encompass many objectives, including:
Colony removal
Deodorization
Content cleaning
Moisture removal
Structural repairs
Waterbury mold damage should often be approached with more urgency than many homeowners show, as the destructive tendency of these colonies is not universally known. Our accredited professionals mobilize fast with cleaning products, drying equipment, and antimicrobial solutions to overcome actively spreading organisms and protect your home from worsening conditions.
The Likelihood of Mold
Humidity is a common concern for much of New Haven County, and those positioned along the Naugatuck River have an even more significant moisture threat than most. When this moisture goes unchecked and unchallenged for as little as 48 hours, naturally occurring mold spores can seat on suitable hosting materials and begin to colonize.
Removing Moisture Concerns
Moisture removal is one of the earliest priorities for our responding team, as this is the trigger for active colonies. We work to manage moisture through drying, ventilation, and dehumidification to eliminate favorable conditions to support microbial growth.
How Does Mold Damage Removal Occur?
Removing active mold is the primary objective of mold remediation services. There is no need or appropriate and sensible price point for removing all mold spores from the property. Eliminating all microbes is unnecessary when the cause of moisture and facilitating conditions get resolved. Strategies for removing active colonies from the property include:
Surface Cleaning – This is among the first options that our professionals attempt with several antimicrobial and sporicidal products. We have proprietary blends that are not as abrasive to the senses as chlorines.
Abrasive Action – Sanding and sponge pressure cleaning are effective for materials like wood framing and semi-porous hosting elements.
Media Blasting – One of the more abrasive tactics to remove surface and seated mold colonies without destroying or discarding the hosting material is media blasting. Sodium bicarbonate and other media like crushed corn cobs are easy to clean from nearby surfaces and provide a direct and measurable eradication of active organisms.
Material Removal – We must be selective with the materials we choose to remove and discard, as this is not always the most cost-efficient method. Controlled demolition is a suitable option when other ways might not be practical or could take much longer than necessary to complete.
What Can SERVPRO Do About Odors?
Malodors are a common byproduct of a growing mold colony, and one of the obstacles to eliminating mold damage from the property is addressing the need for deodorization. The challenge with microbial malodors is their presence in open environments and porous materials in the affected areas. SERVPRO professionals must provide a range of deodorizing solutions, including vaporous concentrated neutralizers and larger units like air scrubbers and hydroxyl machines.
Mold Damage Repairs
A full-service contractor saves customers time and money on the work done in a house. With mold growth, the likelihood of repairs to prevent recurrences and replace discarded materials is high. Having a contractor license allows our SERVPRO of Waterbury team to provide build-back services as needed for your property.
Despite being underrated, Waterbury mold damage can be costly and destructive. Let our experienced SERVPRO of Waterbury restoration professionals help manage this spreading threat in your residence and take the needed measures to prevent it from happening again. Give our rapid response team a call today at (203) 757-5050.