How Long Does Water Restoration in My Waterbury Shop Take?
6/10/2020 (Permalink)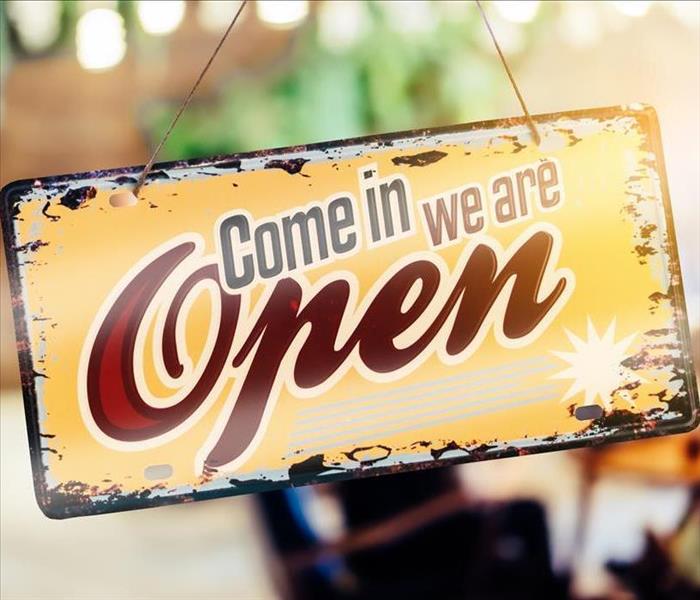 Our teams at SERVPRO know how important it is to continue business as usual, we will have you back in business in no time. Give us a call today.
With a fast response encompassing time and money-saving mitigation work, our SERVPRO professionals can help.
Time is everything for your Waterbury shop. From the time that it takes to receive new stock to how quickly you can reach your customer base with the products, every hour could be costly. The same is true with restoration efforts after a water loss incident in your store. Water losses can be highly threatening situations for how quickly they can spread, and the number of exposed contents that are susceptible to saturation.
There are many different levels of water restoration for your Waterbury shop after a loss incident. As challenging and overwhelming as it might appear, the right response of confident and qualified technicians can make a difference. Our SERVPRO professionals have extensive training and experience to begin protecting your business and its wares as soon as our technicians arrive. Emergency services and mitigation can protect the stock that matters most and improve the efficiency of later restoration efforts.
What Can Happen Until Help Arrives?
It might not be evident what you should do while you are waiting for qualified technicians like ours to arrive at the scene. After you have spoken with both our emergency line and your insurance provider, there are a few things that you can do before we reach your building. When safe to perform, these added measures can limit the irreparable damage to some of the shop's contents and structural integrity. These steps include:
Moving Contents – One of the steps that you might consider while you are waiting for our professionals is to relocate your personal belongings, stock of the store, and equipment to a safer location. Often you have a storage area that might not be affected by the water damage, and relocating items from the path of migrating water can save money.
Shutting Off Running Water – We encourage many of our commercial colleagues to prepare in advance for emergencies. This preparedness often involves knowing where the main shutoff to the building is to stop the flow of water to pipes during an emergency.
Getting Staff Out of the Structure – It is considerably challenging to work around several individuals when our team arrives for extraction, cleaning, and restoration. Encourage your employees to leave to allow our restoration team to set up as necessary.
What Are the Vital Elements of Water Restoration?
Water restoration might vary from one site to the next, but there are fundamental aspects that can often involve every location where these emergencies occur. Between emergency services and mitigation steps, we can perform many of these tasks. Successfully beginning, many of these actions can reduce out of pocket expenses and the time that restoration takes. These primary focal points are:
Water Removal – Removing surface water and trapped moisture from materials can be a vital step in protecting exposed flooring and wall systems. With carpeted floors in the central area of your shop, water removal tasks like weighted extraction can prepare the material for efficient evaporative drying.
Drying – Many tools play a vital role in removing lingering moisture from the environment and exposed materials. Centrifugal air movers and dehumidifiers are the backbones of efficient and practical drying.
Cleaning – Cleaning is a standard tie for all types of loss incidents, and with water damages, there are residues and structural damages that also must get cleaned up after.
Content Management – Protecting your wares and the stock begins as soon as our team arrives. Through relocation and transferring to our local SERVPRO facility, your belongings and inventory can receive the best possible care.
What is an Emergency READY Profile Plan?
TThe ERP, or Emergency READY Profile Plan, is an app system that connects a business or property owner with our SERVPRO team's skilled technicians. By conveying time-saving and critical information that our responding technicians might benefit from knowing, we can reduce restoration times and overall expenses with a more efficient approach. Some of the advantages of an ERP include:
Time-Saving Information
Contact Information
The Layout of the Structure
Chain of Command for Restoration Decisions
No matter how problematic water losses can be for your shop, our SERVPRO of Waterbury team can help with fast and reliable service. When you add in possibilities like the free ERP program, we can offer even quicker outlets for water removal, drying, and cleaning. Whatever your shop needs, our professionals are here to help. Give us a call anytime at (203) 757-5050.