How Leaking Water Heaters Cause Water Damage in Waterbury
2/5/2020 (Permalink)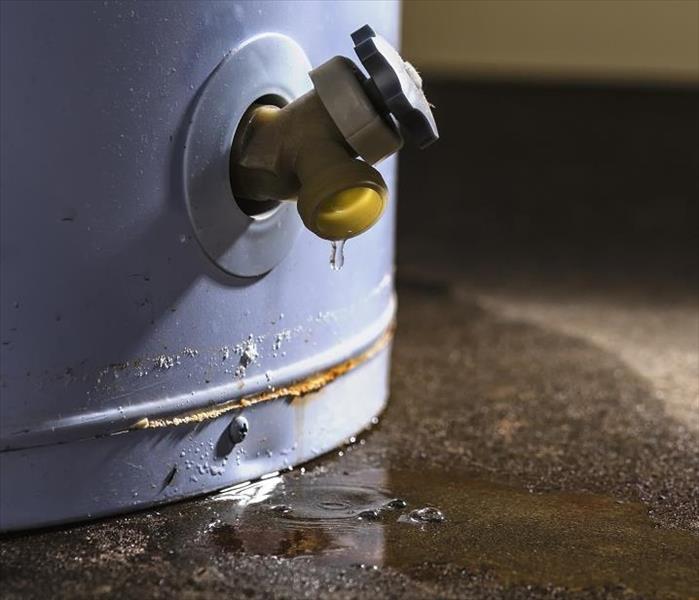 Water heater failure is a significant source of water damage. Inspect your water heater often for signs of leaks.
Removing Water Heater Related Water Damage in Waterbury
Most homeowners can expect about 8 to 12 years out of their current water heaters, and even slightly longer with regular maintenance and care. However, three-quarters of water heaters experience failure before the 12-year mark, and the average household leak can cause an average of 10,000 gallons of water loss per year. Not only is this costly for homeowners, but it can be damaging to their homes.
If your Waterbury residence has experienced water damage related to a water heater or boiler, SERVPRO technicians can assist you in restoring your residence to a preloss condition. Your local SERVPRO is available 24 hours a day, seven days a week, 365 days a year, so that you can minimize loss and maximize savings with the help of a team trained to meet the Institute of Inspection Cleaning and Restoration Certification (IICRC) standards.
Maintaining Your Water Heater
Check the pressure relief valve.This safety mechanism prevents an excess of pressure buildup in your water heater. To find the pressure relief valve, look for a switch on the side of your water heater with a discharge pipe made of copper or plastic. Place a container underneath the discharge pipe and lift the lever.
Take a look at the anode rod. Both electric and gas water heaters have anode rods, which attract corrosive minerals to preserve the tank. Replace it once every five years.
Flush the tank annually. This practice helps to prevent mineral sediment buildup that can rust your water heater. To flush the tank, turn off both the power and cold water supply. Open the hot water tap and pressure release valve, and keep a hose and bucket handy to drain the water until it is clear and free of sediment. Turn on the cold water supply and repeat
SERVPRO Eliminates Odors & Moisture
When SERVPRO technicians come to your residence, they use a variety of tools to monitor the extent of moisture damage to the structure. These include penetrating and nonpenetrating sensors and meters, as well as thermohygrometers, which monitor both temperature and relative humidity.
Professionals use readings from multiple devices in tandem with psychometric calculators and charts to determine the best course of action for drying the space. If your water heater is in a large open area, drying chambers may be erected with plastic sheeting to facilitate faster and more effective drying and restore surfaces to their typical moisture values.
SERVPRO of Waterbury is proud to provide mitigation service that is Faster to Any Size Disaster. When disaster strikes in your home, contact us at (203) 757-5050 to have a crew on-site within hours.
More about Waterbury.