Ultimate Solution to Commercial Flood Damage in Waterbury
1/30/2020 (Permalink)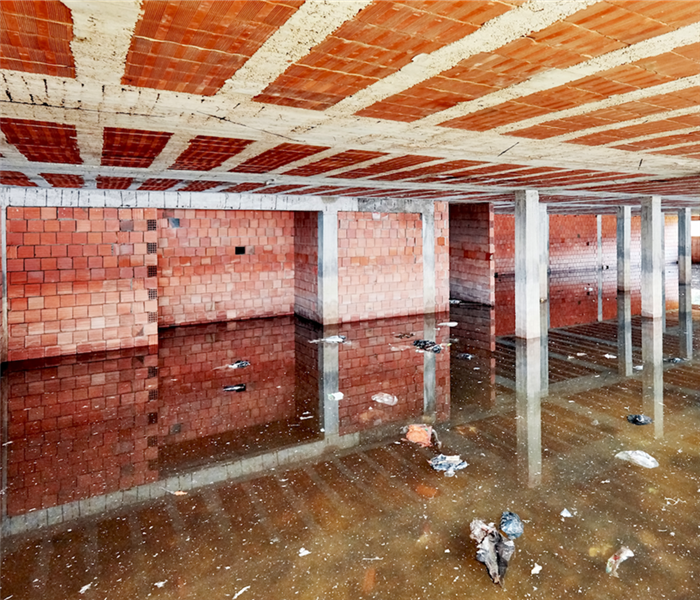 When the basement of your commercial space is flooded, structural damage can quickly develop. Call SERVPRO to assess and remediate the damage.
How Emergency Services Keep a Flooded Waterbury Restaurant Open
Storms that impact Waterbury buildings, many surviving years of continued abuses from nature with their original brick construction, can leave your business vulnerable to penetrating water. When debris or hail breaks through the roofing material to create a breach, runoff and collecting water on the flat rooftop can find its way into this opening and down to the main floor with your restaurant. To keep your business going at this point, your response is critical.
Invading water can find the most natural path to the main floor of the building, meaning that resolving flood damage to Waterbury restaurants involves several actions from our SERVPRO professionals dispatched to your address. Notifying professional restorers like ours of the situation as quickly as possible can help to establish containment barriers at the penetration points to reduce the migration of flooding throughout the restaurant.
Even if the penetration point has developed above a portion of the dining area or the food prepping stations, our barriers and emergency services can reduce water intrusion to allow your business to stay open and serving customers throughout the rest of the shift. Once you have closed up for the night, we can focus on the louder and more direct mitigation tasks like full-on extraction and structural drying techniques.
Because you do not want to risk and contamination of the food that you are making when demolition and reconstruction occur, we can work with you to establish a reasonable timeline for both the restoration process and the reconstruction process with an industry partner Connecticut Reconstruction Services. Between mitigation and the transition into the rebuilding that the property needs after the storm damage, we can get your doors back open quickly after a flood loss.
Our fast response in a flooding situation can help your restaurant to continue serving customers, and, depending on the severity of the situation and what your building needs, possibly continue doing so during restoration. It is our business to get you back in business, and you can trust our SERVPRO of Waterbury team to do it. Give us a call today at (203) 757-5050.
Click here for more information about Waterbury.