Revealed: Flood Damage Remediation Success in Cheshire
11/30/2019 (Permalink)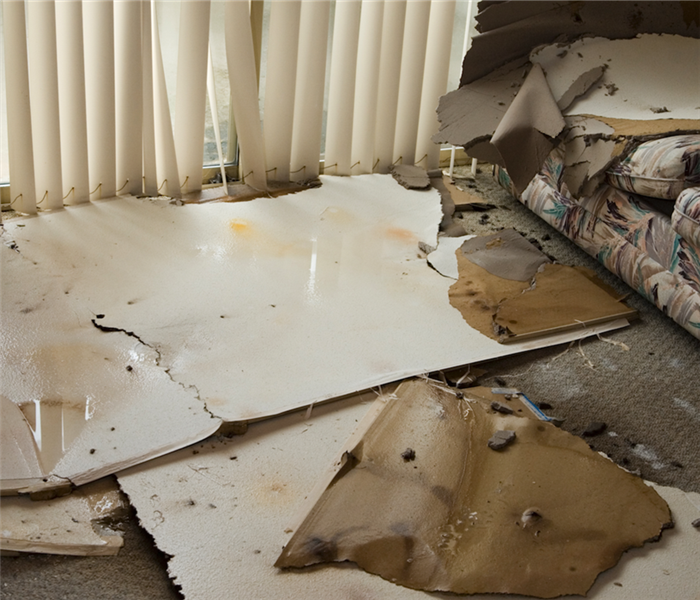 Flooding can quickly overtake your home. Head for higher ground and then call SERVPRO for water removal and remediation efforts.
Ways Flood Damage Impacts Your Cheshire Home
Cheshire residents are no strangers to the potential of flooding. Streams, rivers, ponds, and lakes cover Connecticut's landscape. When a big storm hits, these previously small bodies of water often turn into torrential flooding causing great danger to the homes and buildings in the area. Nor'easters in the winter or snow melting in the spring bring a level of unpredictability to Connecticut's waterways.

Should your Waterbury home have flood damage, you need to take quick action to mitigate extensive damages. Floodwaters recede, but the sludge they leave behind does not. Floodwater is always considered black water because of contamination with bacteria, dirt, viruses, and other organisms. The professionals at SERVPRO understand what to do when flood damage hits your home. "Like it never even happened."

Carpets soaked by the floodwater are typically discarded. Carpets cannot be cleaned adequately and restored; they usually have to be replaced. If there are valuable furnishings or electrical cords near the moisture, it is essential to relocate the items to a safe, dry place. Damaged items need to be carefully cleaned, sanitized, and deodorized, or in the worst-case scenario, replaced.

Next, SERVPRO trained technicians make "flood cuts" on the drywall. These cuts help eliminate a lot of the dampness and help prevent rapid mold infestations. Technicians carefully remove damaged drywall, usually several inches above the waterline. If technicians were to make less of a cut, they risk water seeping up into the walls and causing long-term damage. The flood cut exposes the wall cavity so that air can circulate through and dry faster. It also eliminates the wet material, facilitating drying the home.

Drying the home and contents, and removing moisture from the air is a critical part of flood damage restoration. Air movers create circulation that directs warm air and ventilates the exposed damp wallboards. Dehumidifiers further help by removing water vapor from the air.

SERVPRO of Waterbury is available to assist you 24/7. We understand that damage does not always occur during business hours. We also provide prompt service in your time of need. We're Faster To Any Size Disaster. (203) 757-5050

Click here for more information about the city of Cheshire.